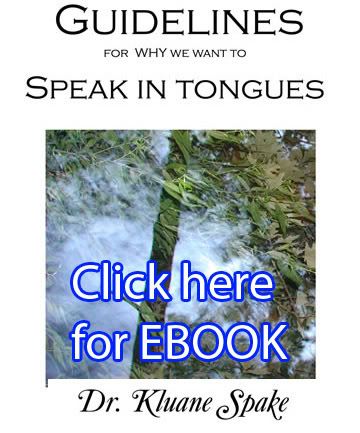 Dr. Kluane Spake
SHOULD WE SPEAK IN TONGUES?
The beginning

It turns out that all our problems started in the garden. It wasn't supposed to be that way.

In the beginning, God desired willing fellowship; He created His grand finale – and made humanity. We remember how The Lord God fashioned the first human body from the dust of the earth. Adam existed as a lifeless image until God reached into the inside of His own being and then blew Adam's spirit into existence. Then, suddenly, unlike all the animals and birds, the Spirit entered Adam and his life force was quickened and vitalized. God's Spirit ignited the soul. Man (being both male and female) became a "living soul" (nephish Gen. 2:7) made in the image and likeness of God.

Adam awareness existed in God's class. His body-suit clothed or covered his spirit man. The original Adam (male and female) flowed in absolute harmony with the physical laws that govern our universe. Adam could co-exist on two levels – both the natural and the spiritual. This possibility compares to wearing an astronaut's suit, which allows someone to operate both on earth and in space. Humans were originally designed to dwell supernaturally on earth.

Nothing had ever been created like this before. Adam's inner-man and the outer-man looked the same. Inside his inner-man were the forces of love, peace, and joy. Both Adam and Eve each had a spiritual soul (forces of the spiritual realm) and a physical soul (God given emotions in control). Their soul and spirit were harmonious and indivisible.

Their body was also spiritual. Inside Adam's fingers were spirit fingers; behind his eyes were spirit eyes. Adam was a spiritual human created with the ability to think and to speak. Being in God's class, Adam could communicate directly with God. In fact, Adam was in unanimous thought with God. But you know the story; The woman was separated out of the man. She also had the same capacity and potential for God likeness.

But one day, the serpent began to lure them. Disobedience caused spiritual death and then Adam and the woman were no longer allowed to walk and talk with God in the cool of the garden. After the Fall, their once spiritually-minded soul fragmented into worldly preoccupations. Now this emotional ream was capable of hatred, jealousy, and dishonesty. This potential for fragmented nature was passed on to all humankind.

Centuries later, Jesus came to earth. He lived and died to save us from this fallen state and re-obtain the new nature of a Spiritual life and God-ward communication. He died for all the past sins of the world and also for our future sins. The work of the cross is accomplished NOW. Once and for all.

Believer's are redeemed by the new birth (2 Cor. 5:21). We receive LIFE into our spirit ---- and our soul. But sometimes our soul lives in the memory of the fallen state. It doesn't remember that it is redeemed. Old patterns and lifestyles are allowed to dominate. Yes, our spirit man is born again. But what about our mind? It still says and desires bad things. We still have the capacity to fluctuate in and out of incorrect emotions. We think bad thoughts, we use wrong motives. Our soul-realm desperately needs to be transformed. God leaves that to us. He says to "put on" the new man.

I don't know about you, but my shirts don't jump out of the closet on onto my body without some help! We are left with the responsibility to put on this new character, one sleeve at a time. The Savior gave us the Holy Spirit to guide us and bring us into control. He brings us into the constant, stabilizing force of the spirit.

As we pray, the Holy Spirit broods (hovers) over our choices and incubates new life. The Spirit of God brings us into perfect unanimous thought with Him. This fact must become alive to each of us -- the unrenewed mind brings death. The spiritual soul is our goal… That's why we must build up the new man.

The problem
When we are first born again our emotions are excited and everything is wonderful! But often, after awhile, the soul gets weary and drifts back to the old ways. Thousands of confused Christians stay on an emotional merry-go-round, claiming that God sends them from place to place, or tells them to do something that fails. They're being led by their emotions and their flesh, rather than by their spirit.

Sometimes, we just get too busy and we start speaking our feelings of frustration. Anger gets the best of us. We lose our peace.

Usually these feelings of frustration are verbalized by our words. And here's the root of the worst of our problems – it intensifies right here. Oh that mouth. James says that tongue is a flame of fire, and no man can tame it. But life and death are in our tongue! We'll never rise above the confession of our lips. We can rise to it, or fall to it. Surely, we are snared by the words of our mouth.

How can our words make that much difference?
With the invention of the x-ray we can see the heart, but we still can't image the soul or spirit. X-rays show us the throat, but not the voice -- the brain, but not the mind. We can see our tongue, but not the danger it causes. A misbehaving tongue is flattering, proud, lying, deceitful, perverted, soothing, healing, destructive, mischievous, wicked, and untamable. James says that small part boasts of great things.

How can our tiny tongue rule us? Especially when we live in this generation, where we can rocket men into space, spend months in submarines on the great sea floor, transmit secret data between satellites, bridle the wind in windmills, cause rivers to make lights, and yet we can't control our tongue.

This tongue never wears out. It wants to speak death and lies. Proverbs tells us to keep our tongue between our teeth. If we keep our tongue a prisoner, then we'll be free.

The unguarded tongue wounds others. Psalms 64:3-4, Who whet their tongue like a sword, and bend their bows to shoot their arrows, even bitter words: That they may shoot in secret at the perfect: suddenly do they shoot at him, and fear not (KJV). How is it that once happily married couples suddenly begin to destroy their friendship and relationship – only to later regret the damage done. We cannot call back the arrow we've shot. Surely, death and life are in the power of the tongue (Pr.18:21).

Write out the following Scriptures:

Ps 10:7

Ps 12:4

Ps 15:3

Ps 34:13

Ps 35:28

Ps 39:

Ps 39:

Ps 39:3

Ps 52:2

Ps 52:3

Ps 52:4

(See also Ps 57:4, Ps 64:8, Ps 66:17, Ps 119:172, Prov 10:20, Prov. 12, Prov. 12:19, Prov 15:2, Prov 15:4, Prov 25:15, Isaiah 57:4.)

Think about the number of words you've spoken today, or heard on television, or the radio. Try to count the numberless stars, the minute particles of sand, blades of grass, or leaves on trees. Your words go forth into space as ever vibrating sound waves. Perhaps, we may begin to realize that by our words we shall be justified, by our words we shall be condemned (Matt. 12:37). We cry out as David did in Psalms 120:2 "Deliver my soul, o Lord, from lying lips, and from a deceitful tongue" (KJV).

I often think about this passage in James. Let's study it together: James 3:3, Behold, we put bits in the horses' mouths, that they may obey us; and we turn about their whole body (KJV). Bits put pressure on the horses' tongue. That pressure in a sensitive area makes the horse obedient.

James 3:4, Behold also the ships, which though they be so great, and are driven of fierce winds, yet are they turned about with a very small helm, whithersoever the governor listeth. Just as a small rudder can turn a huge ship, our small tongue can turn our lives for the good or bad.

James 3:5, Even so the tongue is a little member, and boasteth great things. Behold how great a matter a little fire kindleth! (KJV) How can it be? A fire, a restless evil. That tongue speaking wrong words has damaged and battered more people that all the wars put together. In fact, James says that the tongue defiles the whole body. We're blocked in life because of what's inside that comes out. Some pressure on our tongue is the only hope.

We have to bridle our mouth until we speak correct words of faith that stir heaven. We release faith out of our mouth. That's why Mark says that whosoever shall say...and not doubt in his heart but shall believe that those things which he says shall come to pass, he shall have whatever he says. But how can we tame that tongue that no man can tame?